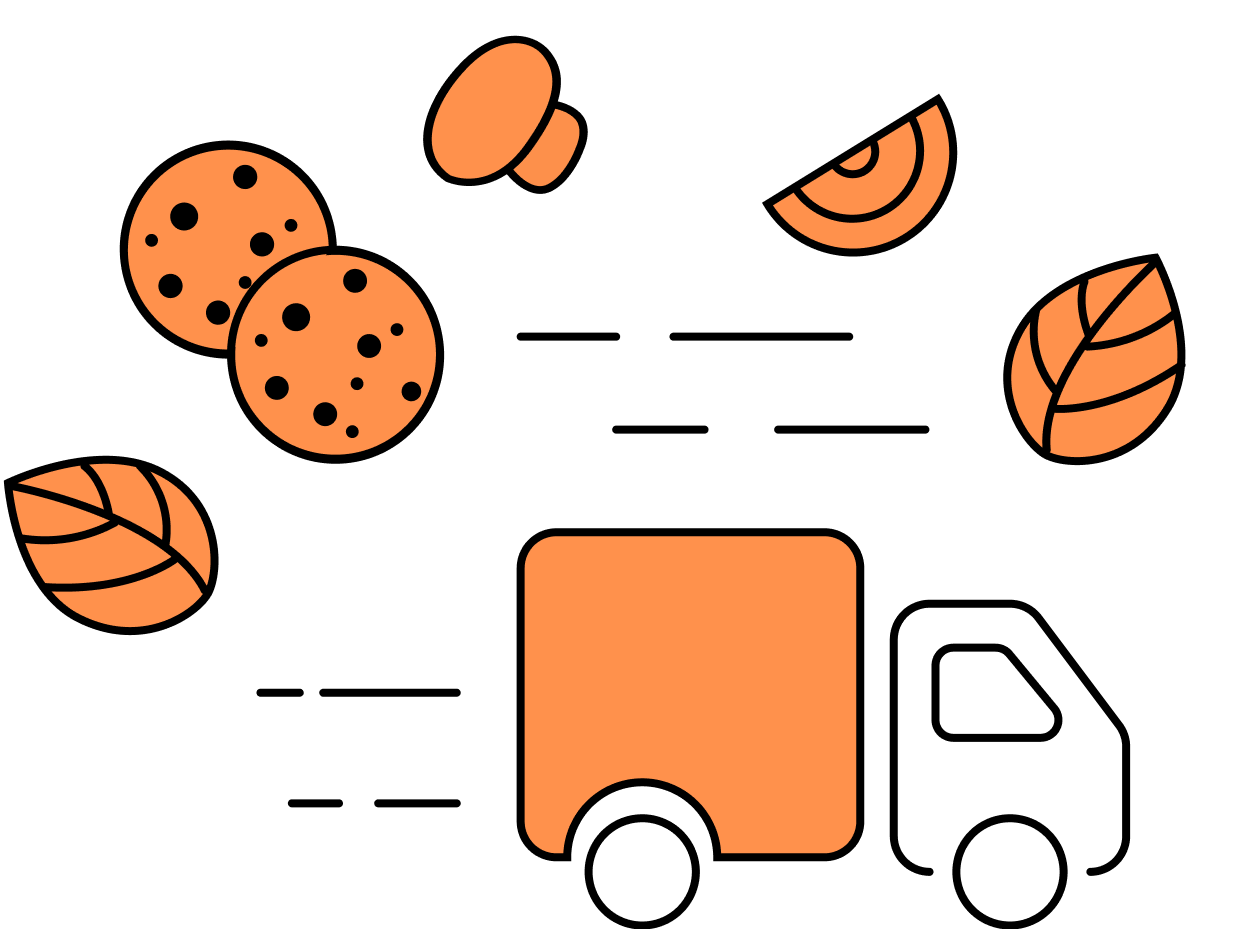 There are currently no delays. Delivery will take place as per the table in delivery information below.
DELIVERY INFORMATION
Standard delivery for perishable orders:
***********
Christmas week 2023 Delivery update.
Standard Delivery will be suspended from Saturday 16th December until Wednesday 3rd January 2024.
Orders during this period can be placed using our special >>>date picker link<<<< which allows you to select a specific day during the busy Christmas period to arrange your delivery.
There is no additional cost for this service.
If you order Standard Delivery during this period your order will be dispatched on 2nd January 2024.
Please note. Slots are limited and did fill up very quickly last year. Don't hang around!
>>>>>Select your date now<<<<<
***********
Our aim is to offer clear and simple shipping based on the following tables for either delivery or collection. This is based on the method of "order placed on day X is delivered/collected on day Y".
On very rare occasions orders may need to be held in which case it will trip over to the next delivery day.
We do no ship or deliver on Bank Holidays so the below schedule will be affected over a Bank Holiday.
If you are planning an event or a party and would like your order delivering on a specific date, please contact us and we will try to accommodate this.
Day Order Placed
Monday
Tuesday
Wednesday
Thursday
Friday*
Saturday
Sunday
Day Order Shipped
Tuesday
Wednesday
Thursday
Friday
Friday/Monday*
Monday or Tuesday
Monday or Tuesday
Day Order Delivered
Wednesday
Thursday
Friday
Saturday
Saturday/Tuesday*
Tuesday or Wednesday
Tuesday or Wednesday
Day Order Placed
Monday
Tuesday
Wednesday
Thursday
Friday*
Saturday
Sunday
Collection Day
Tuesday
Wednesday
Thursday
Friday
Friday/Monday*
Monday (excluding Bank Holidays)
Monday (excluding Bank Holidays)
A despatch note is sent on the afternoon of the day your order is shipped with the tracking number included. You will also receive an update from the carrier during the evening to confirm they have your parcel. Please do not ignore these messages.
*Orders placed before midday on Friday will be dispatched on Friday for delivery on Saturday.
DELIVERY OPTIONS
Standard delivery for perishable Items:
The day your order is dispatched it will change from "unfulfilled" to "fulfilled". Please note your order will have a status of "unfulfilled" up until the point of dispatch.
The above delivery schedule will be impacted by Bank Holidays. Couriers are DPD and for some postcodes, Royal Mail. Both are next day delivery services. Please note delivery days for the standard delivery option are Tuesday, Wednesday, Thursday, Friday, and Saturday. excluding Bank Holidays.
Please check the service schedule to keep updated with current delivery dates and any dispatch delays.
Standard delivery for non-perishable: Standard delivery for non-perishable items: If you order is for non-perishable items only, they will be sent Royal Mail Tracked 48 and will be processed for dispatch within 1 – 3 working days of receipt of the order.
Click and Collect; You can collect form our York factory. This option will require you to pick your collection date. Please note, the latest time available to collect is 3.30pm, please do ensure you arrive before that time, or you can collect the following day. Collection days are Monday to Friday excluding Bank Holidays.
DELIVERY COSTS
PERISHABLE ITEMS
Standard Delivery:
Free on orders over £35 (before any discount is applied)
£6.49 for orders under £35
Minimum order value for orders containing any perishable (chilled) items is £20.00
NON – PERISHABLE ITEMS
Standard Delivery:
£5.50 for all orders under £35
Free over £35

Minimum order value for orders containing only non-perishable (ambient) items is £10.00
DELIVERY TO NORTHERN IRELAND
We are delighted to be able to offer delivery to Northern Ireland.
Standard Delivery to Northern Ireland:
£14.99 for orders under £75
£6.49 over
Minimum order value for orders to Northern Ireland is £25.00
We appreciate the cost of shipping is higher to customers residing in Northern Ireland. This is due to the additional costs we are charged as a company by our carriers. We have tried our best to be as fair as possible with these and with offering discounted rates the more your order value is. In order to achieve this our tiers are higher than for that of the mainland. However, we are really pleased to be the only company to deliver pizza dough balls from the mainland.
Scottish Highlands and Islands
As with Northern Ireland we are delighted to be able to offer delivery to remote addresses, but we are again charged more for doing so.
The following postcodes are classed in this section:

PO30 - PO36, AB31, AB34, AB41, AB42. AB43, AB45, AB51, AB52, AB53, IV2, IV11, IV12, IV22, PA38, PH15, PH39, PH50

Standard Delivery is:

£12.99 for orders under £45
£6.49 over
Minimum order value is £25.00
GENERAL DELIVERY TERMS AND CONDITIONS
We aim to have your order delivered on the day stated in the table under "delivery options" and achieve a 99% success rate in delivering to customers using this method.
During busy periods, technical updates, or force majeure events, such as extreme weather (which includes temperatures greater than 37 degrees celsius), this may affect our ability to deliver on a specified day and will result in orders being delivered on a different date. I
If you are ordering for an event, we recommend ordering ahead, or contacting in advance. Most of the products can be frozen or can be kept referigerated for a reasonable period. If your event falls on a weekend, we recommend opting for delivery on Thursday prior to your delivery day as a minimum.
Delivery days are Tuesday to Saturday. We cannot deliver outside these days.
Delivery is not possible on Bank Holidays, or weekends that are sandwiched between Bank Holidays, nor the day immediately following a Bank Holiday.
DELIVERY PARTNERS & ORDER TRACKING
We use DPD and Royal Mail as our delivery partners. We always use a "Next Day" service with these partners. However, "Next Day" does not always mean it will be delivered next day and in some cases may take two days for the delivery. Our packaging is such that it will ensure safe transit for at least 2 days.Please download the DPD and Royal Mail apps and fill in the same email and mobile phone number that you use for your delivery information during our checkout. Please also enable notifications. This will ensure you will receive tracking notifications as soon as they are pushed through to the apps.
You are responsible for providing the correct delivery address. If you fail to provide a correct address or partial address, your order may not be delivered.
You are responsible for providing a correct email address and mobile number. If you fail to provide these, you will not receive the courier notifications or tracking information.
You will receive notifications via email and text message. It is the customer's responsibility to act on these notifications.
You will be provided your one-hour delivery slot, via email and text message, on the date of delivery.
Depending on your postcode, you'll be presented with additional in-flight options:
Requesting to leave with a neighbour.
Requesting to leave in a safe place.
Change the delivery date. NOTE – due to the nature of the product we are shipping customers who delay their shipment using DPD's "in flight" option do so at their own risk as DPD may destroy the package without delivering and do not store the parcel overnight in a chilled environment. In circumstances where a customers delays the delivery date after Great Balls of Flour passes it to DPD, Great Balls of Flour bears no responsibility should the parcel be damaged or spoiled by the customer using in flight services to delay and change the delivery date of the order. A refund or replacement will not be provided in these circumstances.
If your order contains perishable items, there will be an attempted delivery on the date the courier provides the one-hour time slot. If no inflight options have been provided, the driver will leave the order at your property. You are responsible for providing the driver with delivery instructions e.g. safe place location.
Due to the nature of the perishable products, Great Balls of Flour and our courier partners cannot be held liable for items stolen after delivery or perishable items that have spoiled due to incorrect storage after delivery. This includes but is not limited to:
Perishable items spoiled due to delivery delays caused by customers e.g. customers delaying deliveries with inflight options will not result in a refund or replacement.
Stolen items as a result of the customer not providing a secure safe place location to the courier will not result in a refund or a replacement.
Perishable items spoiled due to customer's nominated inflight safe place location being unsuitable for perishable goods e.g. greenhouse, front door step in direct sunlight will not result in a refund or replacement.
INPUTTING THE INCORRECT ADDRESS
Please ensure you enter the correct address during the checkout and before completing your purchase.
If you need to change the delivery address, we can change this up to the day before the date of dispatch. After this time, we cannot amend it and your order may not be delivered.Great Balls of Flour, and our courier partners, cannot be held responsible or liable for non-delivery or delayed delivery due to an incorrect delivery address being supplied. Under these situations, it will not be possible to provide a replacement order or a refund if you order contained perishable goods.
DELIVERY TIPS
We recommend you track your order using our couriers' apps.
We recommend using "What 3 Words". This is a useful tool that allows couriers to pinpoint your exact location. Just find your three words and provide these to the courier through their app.
If you are not in, we strongly recommend you select a suitable safe place for the courier to leave your order or select the option to leave it with a neighbour.
If you opt for your parcel to be left with your neighbour, we strongly recommend providing your neighbour with instructions on how to then store your items e.g. remove from foil insulation bag and place in fridge.
DELIVERY EXCLUSIONS
If you cannot proceed with your order during the checkout process it is possible that your postcode is preventing, you from completing your order. As we provide perishable items, we are only able to ship to mainland UK, Wales, and parts of Scotland due to shipping limitations and to ensure minimum transit times for the products.
Here are some of the locations we currently are unable to ship to: Channel Islands. Isle of Wight. Isle of Man. Scottish Islands and certain postcodes beginning with IV.
FOOD SAFETY THROUGHOUT DELIVERY
We have extensively tested our packaging to ensure your order maintains a suitable temperature throughout delivery and we always use a next day service.
TERMS AND CONDITIONS ASSOCIATED WITH ORDERS AND DELIVERY
Upon placing your order, you are agreeing to our terms and conditions and this delivery policy. The sale of our perishable items can only be cancelled up to the point that we hand over your order to our couriers. After this point, orders cannot be cancelled, or returned for a refund.